Figured I'd share this for all those non-Orlandoians. 🙂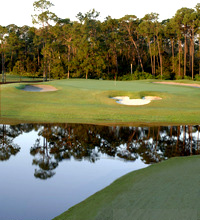 Disney has partnered with Golfnow.com
and you can now book online, discounted tee times for:
Disney's Lake Buena Vista
Disney's Magnolia
Disney's Palm
Disney's Osprey Ridge
The rates are not quite as good as the rates offered for those of us with the Disney Annual Golf Membership, but they're still a lot better than paying $150+
Every one of the Disney Courses are well maintained, unique and quite fun to play.
All have cart GPS's, great food and customer service that you can only get from Disney.
Take a look and if you decide you wish to play a round out there, let me know and I'll join ya! 🙂
Enjoy!
-Dave
Here's some Orlando golf course reviews for your perusal and if you're looking to play, here's a selection of discounted Orlando tee times.